Do you ever have a craving for cream cheese but feel it would be socially unacceptable to smear it on anything other than a bagel?
Well, you could just ignore society and put it on anything you damn well please (I melted some with herbs the other day and put it on seared fish, but that's a story for another writeup). Or you could lean into a technicality thanks to some new branded technology.
"Bagel That" is a new creation from agency Gut for Philadelphia Cream Cheese, which wants to embolden you to put its product on all sorts of new surfaces.
Pancake? Boom, now it's a bagel. Waffle? Bagel. Pizza slice? For better or worse, bagel.
"People love spreading Philadelphia Cream Cheese on bagels, but what happens if you're craving Philly and don't have a bagel?" muses Megan Magnuson, associate director of marketing for Philadelphia in a release about the new product. "We created a device to transform other food items into bagels. Have toast? Bagel That. A waffle? Bagel That. Even a tortilla? Bagel That too."
While the spot is a pretty good gag and reminder to try a seemingly niche product in new ways, what takes the concept to the next level is the fact Philadelphia literally created the device and is selling it on Amazon for $9.99.
There were four in stock as I wrote this, but I grabbed one, so hopefully you're able to grab one of the three left. Sorry about that. But know that it will go to good use. I'm going to get … really weird with it.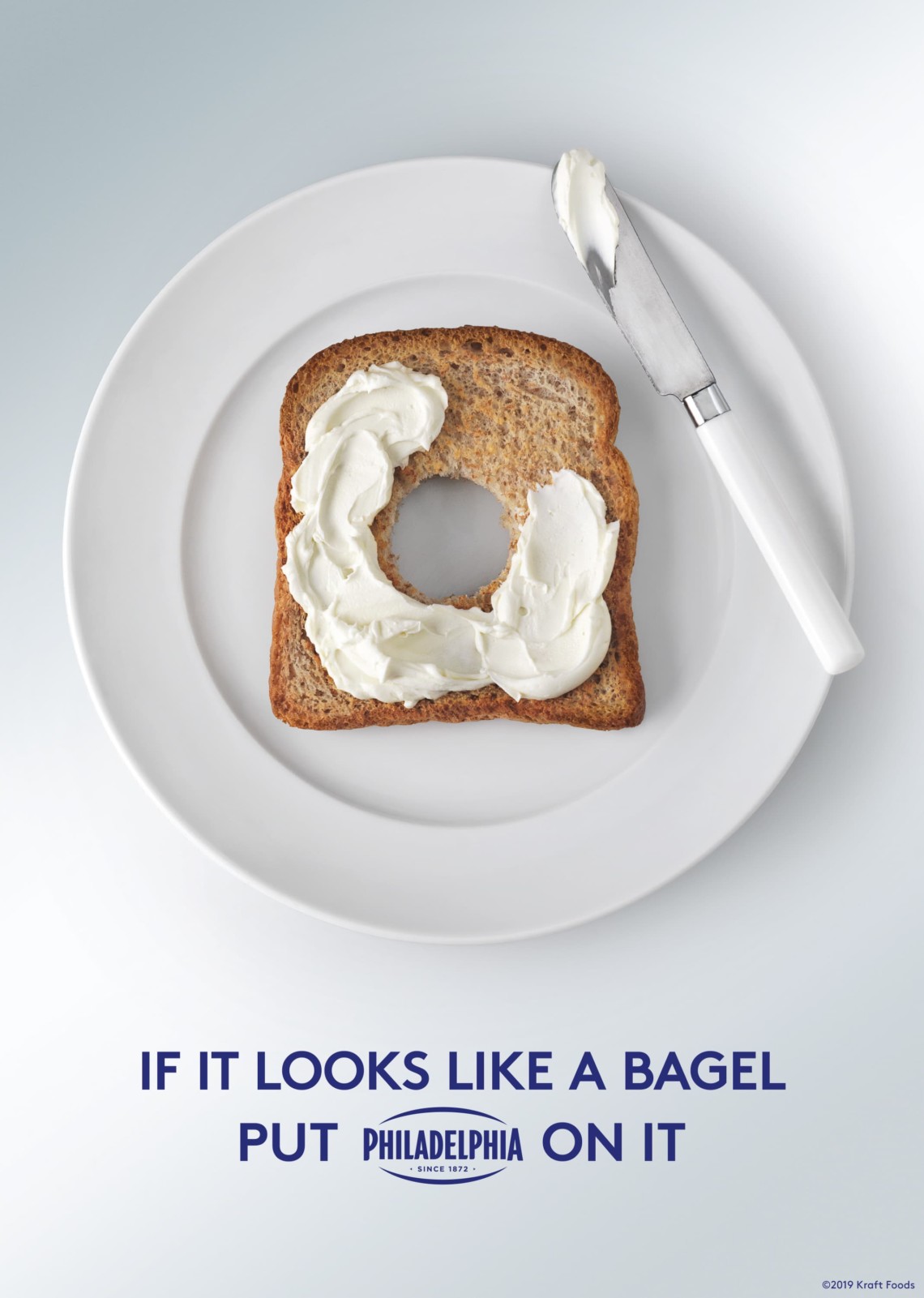 CREDITS:
Agency: GUT Miami
Spot: Bagel That
Client: Philadelphia
Founder, CCO: Anselmo Ramos
ACD, Writer: Jeff Hodgson
ACD, Art Director: Eliana Ferrer
Sr. Art Director: Giulia Magaldi
Sr. Copywriter: Frank Garcia
Managing Director: Ricardo Honegger
Management Supervisor: Monique Beauchamp
Producer: Cecilia Salguero
Jr. Strategist: Wonsik Cho
Business Affairs Manager: Karen Murillo
Client: Philadelphia
Ariel Suffern: VP Marketing, Kraft Heinz
Megan Magnuson: Associate Director of Marketing, Philadelphia
Blythe Jeckel: Sr. Associate Brand Manager, Philadelphia
Production: Cortez Brothers
Director: The Paisanos – Martin Levi & Juan Frontini
Executive Producer: Martin Feuerstein
Service Company: Oruga
Executive Producer: Ioni Borisonik
Line Producer: Jonsi Mesz / Ariel Fainholc
DP: Manuel Bullrich
EditorialL: Oruga
Editor: Andrés Quaranta
Colourist: Jorge Russo
Flame Artist: Martin Kowal
Flame Artist: Pickle House VFX
Executive Producer: Santiago Inglese – Rucatampam
PR: ALISON BROD MARKETING + COMMUNICATIONS
Senior Vice President: Brooke Scher Mogan
Senior Director: Adrianna Lauricella
Director: Amanda Zerbib
Senior Account Executive: Erika Berg
Media: STARCOM