Budweiser and Spike Lee Pay Homage to Jackie Robinson for the 100th Anniversary of His Birth
'Impact' will be a season-long campaign
Ahead of opening day festivities across Major League Baseball on March 28, Budweiser is debuting a new campaign celebrating the 100th anniversary of the birth of the most important player in MLB history.
The campaign, which was envisioned and executed by Dentsu Aegis Network with Isobar handling creative and Vizeum on media, follows the Jan. 31 centennial of the birth of legendary Dodgers Hall of Famer and civil rights icon Jackie Robinson and precedes Jackie Robinson Day, a celebration of the day Robinson first took the field for the Brooklyn Dodgers, April 15, 1947, becoming the first African-American to play in the league.
"From our great Budweiser clients to Oscar-winning filmmaker Spike Lee to the best of the Dentsu Aegis Network, we all passionately worked to create an inspirational body of work," Dentsu Aegis Network global chief president Duncan Smith said in a statement. "Together, we couldn't be more proud of this campaign and what it represents: the celebration of a great American icon and his achievements in breaking down barriers and delivering the extraordinary—the impact of which is still felt today."
A season-long campaign, "Impact" debuts with an ad directed by Spike Lee and narrated by Robinson's daughter, Sharon Robinson, also called "Impact." The spot combines documentary footage of Jackie Robinson with a dramatized scene of patrons enjoying Budweiser and celebrating Robinson's monumental accomplishment.
While the product integration of that scene may seem a bit forced, the overall celebration of Robinson feels heartfelt and is tied to financial support.
AB InBev is partnering with the Jackie Robinson Foundation, including a financial commitment to ensure the Jackie Robinson Museum opens in 2019. The brand will donate 42 cents from every bottle of limited-edition Jackie Robinson Budweiser sold during the 2019 MLB season to the foundation. Budweiser is also calling on viewers to donate to the foundation.
"This was only possible through the close collaboration with Spike Lee and the Jackie Robinson Foundation for over a year; there was a lot of passion and dedication from everybody involved to ensure that we created something special," Ricardo Marques, group vice president, marketing for core and value brands at Anheuser-Busch told Adweek.
He said the brand worked in close collaboration with the Jackie Robinson Foundation and Sharon Robinson to partner with Lee, who is a friend of the Robinson family.
"We all united around a shared vision to commemorate Jackie's legacy and remind the country of the values he stood for," Marques said. "Spike is not only a visionary film director; he is a passionate sports fan and Jackie Robinson fan. Respecting the legacy of Jackie Robinson was of the utmost importance, and we wanted to work in hand with those that helped add authentic depth and cultural value to 'Impact.' Spike was part of the creative process from concept to execution."
Marques told Adweek the brand will "raise a Bud to celebrate the 100th anniversary of Jackie Robinson's birth" on opening day, which is Thursday, and that it also had "exciting plans" in store for Jackie Robinson Day on April 15 as part of the campaign.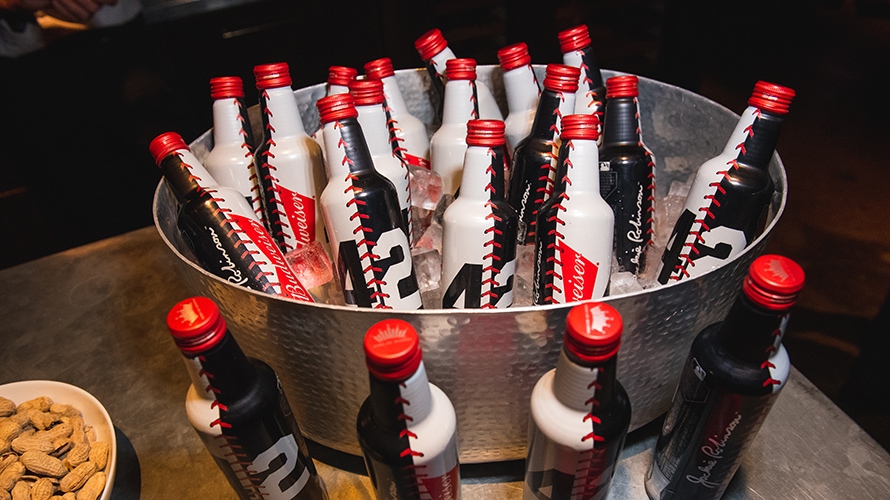 CREDITS
Impact Film Credits
Director: Spike Lee
Production Company: Taking Over & 40 Acres
Executive Producer: Douglas Costa
Spike Lee's Team:
Producer: Heather Parish, Jason Shokolof
Spike DDB: Natasha Williamson, Alex Tyree
Taking Over Team:
Producers: Mihaly Martins, Carolina Bradilli, Alessandro Scafuro
Roberto Scafuro, Juliana Rabecchi, Renata Jay.
Broadcaster Voice: Bob Wolff
Sound Score: Howard Drossin
Sound: C5
Post Production: Harbor Pictures