How Red Nose Day Raised $100 Million for Children in Need, in Just 3 Years
Partnerships with brands like Walgreens are key
Celebrities are lining up to be part of this year's Red Nose Day on May 24. - Credit by Red Nose Day
Taking on a concept as ambitious as ending child poverty is a pretty lofty goal, but when Red Nose Day launched in the U.S. in 2015—30 years after U.K.-based nonprofit Comic Relief's first biannual Red Nose Day—it landed a few strategic brand partnerships that would later ensure the organization's massive success in the States. In just three years, the group has raised $100 million to eradicate poverty among children—"one nose at a time."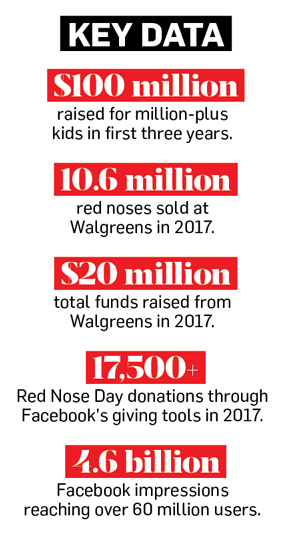 There are many different elements to Red Nose Day. Its partners include Walgreens,
M&M's
, the Bill and Melinda Gates Foundation, as well as NBC. On May 24, the network will broadcast a three-hour extravaganza, which will include a celebrity version of American Ninja Warrior, featuring Derek Hough, Ne-Yo, Nikki Bella and others, as well as Hollywood Game Night, hosted by comedian Jane Lynch. Separately, consumers also can enter raffles or bid on special experiences like a picnic with Hugh Grant or breakfast with Benedict Cumberbatch and the cast of Sherlock.
A key cornerstone of the campaign, though, has been Red Nose Day's partnership with Walgreens. "Walgreens is very much fundamental because that iconic red nose is sort of a gateway into the overall Red Nose Day experience," explained Janet Scardino, CEO of Comic Relief USA and Red Nose Day U.S. "Red Nose Day [is] considered a full store takeover that is only second to Christmas."
From April 2 to June 2, Walgreens locations transform into Red Nose Day hubs, selling a massive number of noses. Just last year the retailer pulled in $7.6 million—or about 10.6 million noses, and all told has sold 30 million noses over the last three years. Red Nose Day uses the money it's raised to issue grants to charities like the Boys & Girls Clubs of America, Children's Health Fund and Feeding America.
What makes the partnership with Walgreens such a success stems perhaps from the retailer's long-standing commitment to philanthropy. "Part of our DNA since the beginning has been helping in local communities across America," said Adam Holyk, svp and CMO of Walgreens. "You can look at what our stores do every single day, our employees are there to help people. Red Nose Day fits with our brand purpose, to help champion the health and well-being of every community in America."
Challenge

Not only did the group need to find the best partners to work with when first launching in 2015, but Red Nose Day also needed to find new and exciting ways to engage consumers and encourage people to continue donating to the cause year after year. "There are so many wonderful organizations in the U.S. and globally that are vying for attention, so to come into the U.S. market, the biggest challenge is breaking through the clutter," Scardino said.
Goal
Each year, Red Nose Day works closely with partners like Walgreens to help support as many children in need as possible, both in the U.S. and globally.
Execution
One reason for Red Nose Day's success in the U.S. is the wide variety of ways people can interact with the group. For Walgreens, it's as simple as walking into a retail location and purchasing a red nose. All proceeds from those $1 purchases go to ending child poverty. To keep consumers who may already have a nose interested, Walgreens recently updated the nose for 2018, adding a silver sparkle to it.
1. Finding outstanding partners is key.
Perhaps the biggest catalyst that led to Red Nose Day's success in the U.S., according to Scardino, was finding the right partners to work with. Walgreens, for example, was a great fit because of the company's existing dedication to giving back through its "Everyone Counts" platform that helps Walgreens customers do good in their local communities and around the world.
2. Make corporate social responsibility fun, but don't go over the top.
It can be hard to see any kind of silver linings when talking about ending childhood poverty. Red Nose Day and Walgreens strive to make giving back as lighthearted as possible, while educating people about the serious problem at hand. Walgreens employees will ring a cowbell "every time a consumer purchases, makes a contribution and buys a red nose," Holyk said. "There is really strong engagement," which he argued makes the partnership feel even more fun for everyone.
3. Doing good is good for business
"Being able to deliver good and do good locally is something that is really top of mind for consumers," Holyk said. It's become increasingly clear that younger consumers favor buying from brands that have some sort of corporate social responsibility aspect to them. Others suggest that companies that give back are better able to engage with employees and retain talent.