McDonald's Coffee Ad Argues That Not Everything Needs to Be an 'Experience'
Leo Burnett London takes another swipe at the price and peculiarities of gourmet cafes
You probably haven't been seeking out a ball-pit cafe recently anway. - Credit by Leo Burnett London
Sometimes you want to soak in the artisanally crafted ambience of a barista-curated caffeine experience. But sometimes you just want coffee.
In its newest spot from Leo Burnett London, McDonald's McCafé brand once again takes some shots at gourmet coffee shops, where it's shockingly easy to spend more than $5 (or in this case 5.30 pounds).
That's how much (roughly $6.50) a woman unwittingly spends for a latte at a coffee shop that seems to be leaning so far into the experiential zeitgeist, it's probably driving up the prices.
"Customers regularly tell us how good our coffee tastes, and the price they pay is so much cheaper than the competition," says Thomas O'Neill, head of marketing for food and beverages at McDonald's U.K. "Our new campaign dramatizes how expensive—and ridiculous—things are getting in coffee shop culture."
The McCafé brand and its agency have been skewering the high-end coffee scene for years now, fueled by a seemingly endless evolution of eccentricities. Last year, McDonald's poked fun at the advertising tropes embraced by the likes of Nespresso and Starbucks. A spot that kicked off the campaign won gold at the 2017 Epica Awards.
This time around, Leo Burnett London partnered on the spot with The Marketing Store, which created McCafe's recent in-store rebranding, including the cup design featured in the spot: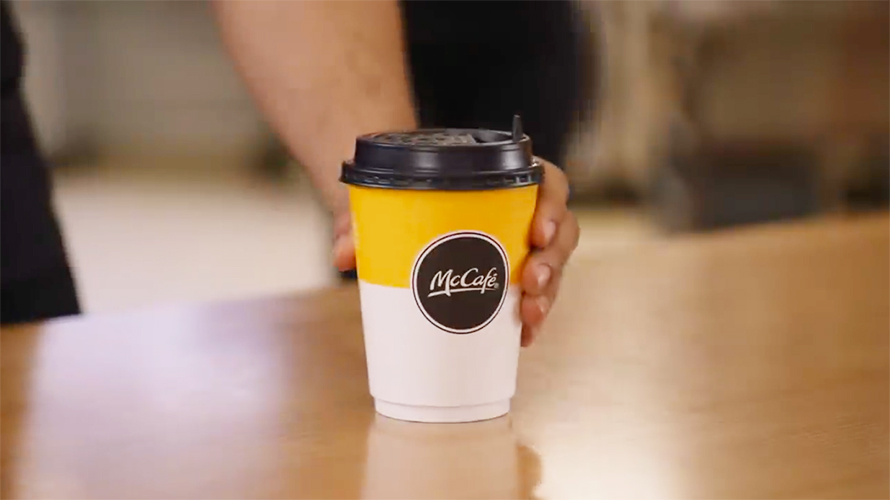 McCafé
"McCafé is the simple alternative to an overcomplicated coffee market," said Peter Heyes, creative director at Leo Burnett London. "In 2020, we return to our 'No gimmicks, no faff' approach, but this year we have sharpened our focus. All this coffee shop gimmickry is one thing, but why pay for it when all you want is a simple coffee?"

CREDITS:
Agency: Leo Burnett London
Chief Creative Officer: Chaka Sobhani
Layla Potter – Managing Partner
Sam Houlston – Business Director
Jay Perry – Account Director
Alice Pavey – Account Manager
Gabriella Kaas – Account Executive
Pete Heyes – Creative Director
Gareth Butters – Creative and Copywriter
Abbie Mclean – Producer
Client: McDonald's
Thomas O'Neill – Head of Marketing, Food & Beverages
Jodie White – Senior Brand Manager
Alexandra Martin – Brand Manager
Kamelya Ozten – Campaign Assistant
Pete Heyes — Art director
Adriana Ferran — Planner/CSU Director
Media agency: OMD
Emma Carr – Business Director
Jessie Field – Communications Planner
Production company: Independent
Director: Tony Barry
Audio Postproduction: 750mph – Sam Robson
Postproduction: MPC – Grace Thorpe