Continuous Innovation Is the Only Way to Stay Relevant, Says Drone Racing League CEO
It's about so much more than brand awareness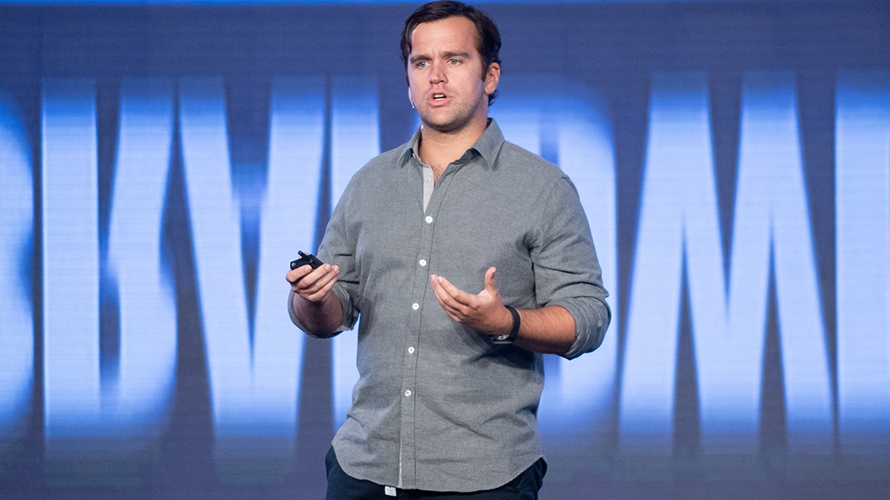 Nick Horbaczewski is already looking at future technology to remain relevant. - Credit by Sean T. Smith for Adweek
Brands measure all sorts of data points to determine whether or not consumers are happy with a product or message. But, in the world of Nick Horbaczewski, founder and CEO of the Drone Racing League (DRL), those statistics aren't as important as keeping the company one step ahead of the latest trend—a lesson every brand should take to heart.
At Brandweek, Horbaczewski explained why certain company achievements were the wrong measures of just how mainstream and valuable the DRL was becoming.
"When our fans watch [DRL], they see the future and they see tendrils of the many forces that are changing their lives and the world around them," Horbaczewski said. "So we were wrong, we were simply wrong to be looking for these milestones. There wasn't a road to follow; relevance wasn't some game of awareness or reach or frequency; relevance was a measure of the 99.9 percent of the time that your fans aren't interacting with your brand or the content."
Horbaczewski shared that a media person once told him that he needed to "follow the road to cultural relevance." Horbaczewski "immediately panicked" and tried to sort through different company milestones to see if those counted as being on the path towards "cultural relevance."
Sure, there were plenty of moments that kept solidifying the business, like a multiyear broadcast deal with ESPN or receiving a piece of fan mail. Horbaczewski knew the company was becoming more culturally relevant, but he had no idea how well-known it was until an episode of Jeopardy opened his eyes.
The episode, which asked a question where the answer was the Drone Racing League, was a "lightbulb moment" for Horbaczewski. The contestant got the question right—showing that DRL was something people knew and could remember.
"You know the reality is that DRL isn't some idea in some vacuum battling for relevance in your mind," Horbaczewski said. "You are seeing a genuinely tech-enabled futuristic sport."
So, Horbaczewski reimagined the brand and its "cultural relevance" as instead becoming a company that could resonate with fans in many different ways, like triggering their memories or becoming a topic worthy of "social currency." One big reason? Fans like his 10-year-old nephew don't see Tom Brady as their hero—it's Elon Musk instead.
Since DRL's fans are so forward thinking, Horbaczewski is already looking towards the next racing circuit—this time with an AI robotic racing circuit.
"We keep pushing ourselves at DRL for continuous innovation because what's culturally relevant is always evolving so we need to be always evolving as well," Horbaczewski said.