Facebook's New-Look Desktop Experience Is Now Available to the Majority of Users
Dark mode and quicker load times and transitions highlight the redesign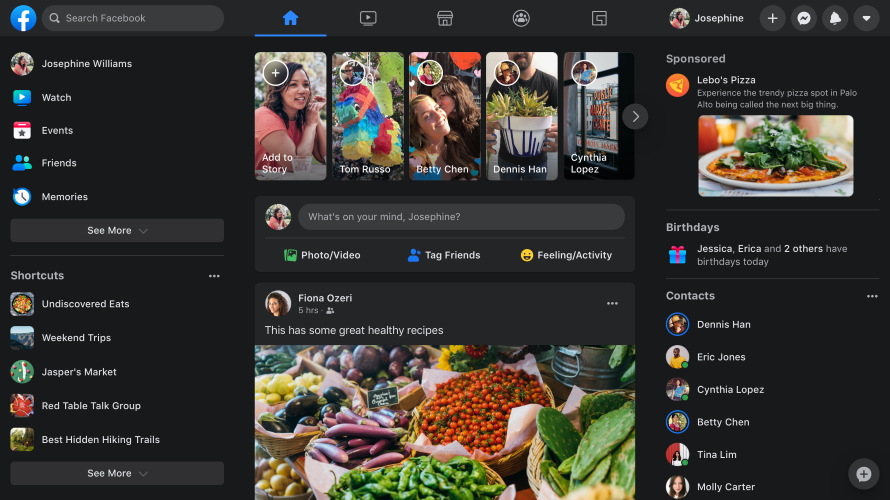 The completely overhauled Facebook desktop design first mentioned at F8 2019 last May has been slowly rolling out to users, and the social network said Thursday that the majority of people now have access to the new look, which includes dark mode for the first time.
The revamp rolled out on Facebook's iOS and Android applications last year, beginning on day one of F8, and CEO Mark Zuckerberg referred to it at the time as FB5, saying that there had been four major versions of Facebook up to that point, and this was the fifth.
Zuckerberg said last May that FB5 marked the biggest change to Facebook's apps and website since it took its apps native in 2014, and the new design was simpler and faster, adding that groups received more prominent real estate to fulfill the company's goal of "making communities as central as friends."
People with access to the new design can go to their setting menu on Facebook for desktop and click "See New Facebook," and they have the option of returning to the current design by going to the settings menu and selecting "Switch to Classic Facebook."
Facebook
Facebook
Facebook said the new dark mode option lowers brightness while maintaining contrast and vibrancy, minimizing glare for use in low-light environments.
Facebook
The social network added that people using the redesigned site will experience quicker load times and transitions between pages, in addition to larger fonts and simplified layouts to make the site easier to navigate.
Facebook said the new immersive layout makes it easier for people to view and comment on Stories, Facebook Watch shows and photo albums, and users can now quickly create events, pages, groups and ads, with the ability to preview how they will appear on mobile before posting.
Facebook