Hearst's Good Housekeeping Adds Recipes to Its Visual Skill for Amazon Echo Devices
Previously, the publisher only offered content about removing stains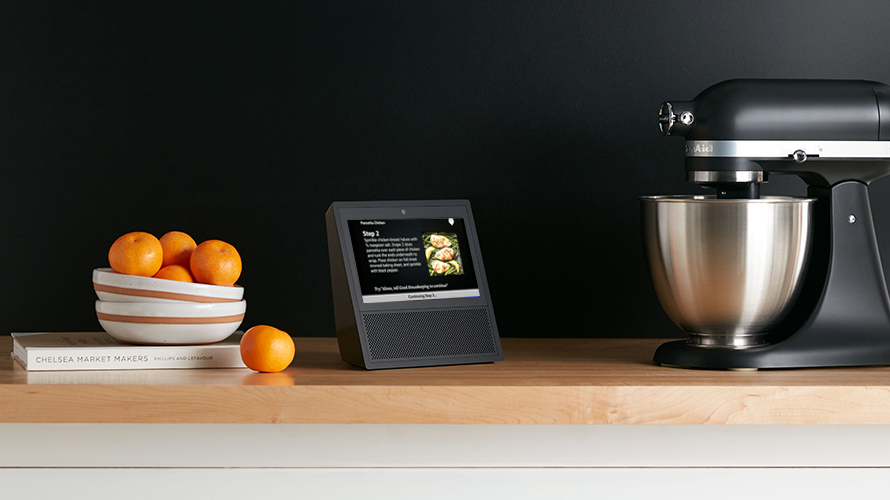 The Good Housekeeping skill now comes with visual recipes. - Credit by Amazon
Two years ago, Hearst went all-in on voice, creating a 10-person team dedicated to innovating on new technologies. The same team is now responsible for creating a new feature to Hearst's Good Housekeeping skill, which now has recipes with visuals made with the Echo Show and Spot in mind.
The skill, which had a soft release last week, is live and ready for use by Echo owners. Previously, the Good Housekeeping skill only offered content around removing stains, but now it'll include recipes curated by Susan Westmoreland, the food director of Good Housekeeping.
Unlike My Beauty Chat, another Hearst Alexa skill sponsored by L'Oréal, the Good Housekeeping skill still has no sponsor attached to it. Hearst declined to share the number of downloads or users either skill has.
"It wasn't a requirement to make money or subsidize the innovation," said Chris Papaleo, executive director of emerging technology at Hearst. "We really wanted to challenge ourselves to get this consumer experience right for the kitchen use case."
To get the kitchen experience right, the Good Housekeeping skill not only includes photos, but it comes with specific commands like "Alexa, tell Good Housekeeping to continue" to proceed to the next step in a recipe. On Echo Show and Spot devices, a user can also swipe left and right to browse different recipe categories as well as swipe up and down on an ingredient list.
Papaleo believes it's a skill built for anyone who's ready to cook or attempting to meal plan for the week. The team still strongly believes in the power of voice and the future of these products.
"I think something like the recipe experience represents a much more sophisticated interaction and we're raising the stakes from what a user can expect [in terms of] information and utility from these devices," Papaleo said.
The team is also betting on the continued growth of the Echo Show and Spot, as well as other companies like Google expanding Google Assistant into more smart displays. Amazon did after all tout that the Echo Spot sold out during the holidays. Papaleo thinks the number of people who own these devices will only continue to grow.
"We felt it was the right time to challenge ourselves for these bimodal experiences where they're voice driven, voice initiated but the experience is made more robust and rich because there's complimentary visual content for the right scenario," Papaleo said.
---
Join 
Dwyane Wade
, 
Julian Duncan
, 
Andrea Brimmer
, 
Rick Gomez
and more at
Brandweek Masters Live, on Sept. 14-17
, for main stage insights, in-depth Masterclasses and more.
Register now
 (early-bird rates expire 9/1)