Spotify began beta-testing Spotify Kids, a new application for Spotify Premium Family subscribers aimed at kids three and older.
Spotify Kids debuted in beta in Ireland Wednesday, and the streaming platform said it will soon roll out globally to all markets with Spotify Premium Family.
Spotify
The user experience in the stand-alone app is completely different from that of the flagship Spotify app, with the company saying it was designed with kids in mind, so it is "fun, familiar, playful, simple and bursting with color," as well as easy to navigate.
Spotify
Spotify
Spotify
Kids can use the app to listen to audio via their own accounts, explore their tastes (with explicit content filtered out), discover music and stories hand-picked for kids by experts, hear playlists made for kids and play their favorite tracks offline, starting with iOS devices.
Cards available via Spotify Kids for its debut are: Bedtime, Favorites, Learn, Movies, Party, Play, Stories, Top Hits and TV Shows. Each card can feature a mix of artists (individuals and groups), compilations, genres, moods and activities and seasonal content.
Spotify said more content and categories will be added over time.
Spotify
During the process of signing their kids up for Spotify Kids, parents can choose from two settings:
Audio for Younger Kids: Singalongs, lullabies and soundtracks chosen by Spotify's editors for younger listeners.
Audio for Older Kids: Tracks and playlists that are appropriate and relevant for older kids, including some popular tracks.
Spotify added, "As we evolve the app experience, we will be rolling out enhanced parental settings and controls that allow for increased customization, further underscoring our commitment to safety and making it as easy as possible for parents and kids to have the best experience."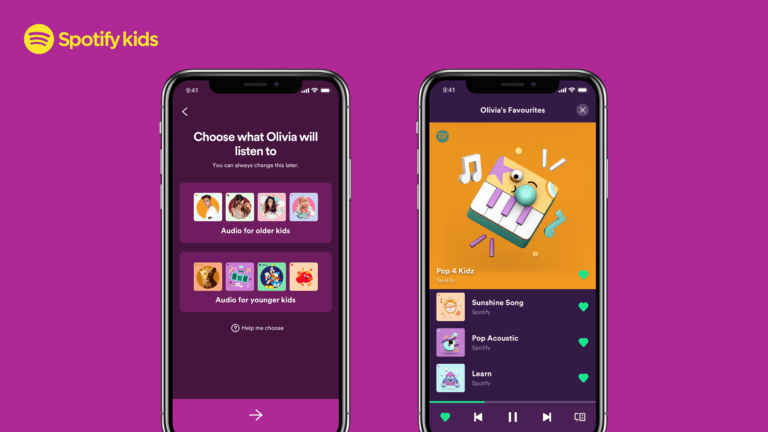 Spotify
Spotify said in a release introducing Spotify Kids, "We acknowledge that having a standalone app specifically for kids is a new space for Spotify, which is why we are launching this product as a beta. We will expand the Spotify Kids app experience over time as we continue to incorporate best practices and learnings, including insights from parents, caregivers and other experts in this space. Finally, as Spotify is the world's most popular audio streaming service, we will look to bring this expertise to the Kids app as we learn more in this space over time because we know that children love audio—stories, sounds and podcasts—going beyond music."
Chief premium business officer Alex Norström added, "Spotify is committed to giving billions of fans the opportunity to enjoy and be inspired by music and stories, and we're proud that this commitment now includes the next generation of audio listeners. We are excited to be expanding the Spotify Premium Family experience with a dedicated app just for our youngest fans. Spotify Kids is a personalized world bursting with sound, shape and color, where our young listeners can begin a lifelong love of music and stories."
And National Children's Museum president and CEO Crystal Bowyer said, "We appreciate the thoughtful approach Spotify has taken to encourage safe, independent play and artistic enrichment for children in its new Kids app."