"We're trending!"
High above the New York skyline, on the 36th floor of the World Trade Center, a team of roughly 40 brand marketers, agency executives, public relations folks and lawyers huddled around one big-screen television to watch their work get beamed to 100 million people. A second monitor showed TweetDeck, with tweets going by in real time like a torrent of water gushing from a broken pipe.
At 7:30 p.m., about an hour after kickoff, Tide's Super Bowl campaign and the subsequent #TideAd hashtag were trending on Twitter. The spigot of tweets involved months of careful, calculated prep work, $15 million worth of TV ads and a room full of people ready to flip the switch on social media. The planning, and most importantly, the execution, was paying off.
Yet, Tide's so-called war room—as well as every other brand's war room—had a massive challenge: How do you cajole an audience to positively talk about your brand during the year's biggest cultural moment?
The brand enlisted Stranger Things star David Harbour to pitch the wild idea that every ad TV viewers saw was secretly an ad for the detergent brand. To do so, Tide purchased 90 seconds of air time with four ads, one for each quarter. Over the course of the campaign, viewers were led to believe that every commercial they saw—for beer, cars, mattresses and more—was a pitch for Tide. The social conversation "is this a Tide ad?" played out all night online and in real life.
According to Talkwalker, an analytics firm, Tide seems to have won over the internet. There were 163,800 mentions of Tide during the Super Bowl. And fortunately for the brand, only 11,000 of those mentions featured the #TidePodChallenge. Another analytics firm, 4C, measured Tide's social engagement five minutes after the detergent's first ad aired and found it went up 74 times. The average for all of its ads was a twenty-sixfold spike in engagement.
This was the second year Tide zigged when other brands zagged. Last year's campaign with football commentator Terry Bradshaw nudged a fake stain into a fake live broadcast, leaving viewers uncertain if what they just saw was a commercial. This year, Tide wanted to be so engrained in the commercials that viewers couldn't forget about the brand after the game ended. And if the goal of the TV ads is to keep viewers intrigued throughout the entire game, then the pressure to deliver a similar succinct but entertaining message on social media for roughly four hours is even more important.
Tide and its agencies—Hearts & Science (Tide's media agency), Saatchi & Saatchi (its creative agency) and Taylor Strategy (its public relations agency)—were watching the game from the brand's war room inside Hearts & Science's New York office to make sure the elaborately concocted ploy to take over the Super Bowl went off without a hitch. Or at least with as few hitches as possible.
"It's 90 percent preparation and 10 percent luck," said someone in the room who was keeping track of both branded tweets and broader Super Bowl trends.
There were six tables, each one its own fiefdom—a Tide table, a Saatchi & Saatchi table, etc.—that operated as a control panel for various areas. For example, the Hearts and Science team sat next to a table with two Twitter reps. The media agency had $167,000 to buy promoted tweets. After 3 hours, a Twitter sales rep told the media buyer, "You've gone through $67,000; You have $100,000 left."
(Adweek reached out to P&G to confirm the Twitter budget, and a rep declined to comment on the exact amount.)
After months of preparation and meetings, the collective work of this group debuted on the advertising world's biggest stage, so it's only fitting that there was a little vibe of nervous energy. "I woke up thinking, 'Oh God, a million people are going to see this today,'" a creative executive said about the spots. More like 110 million. But who's counting?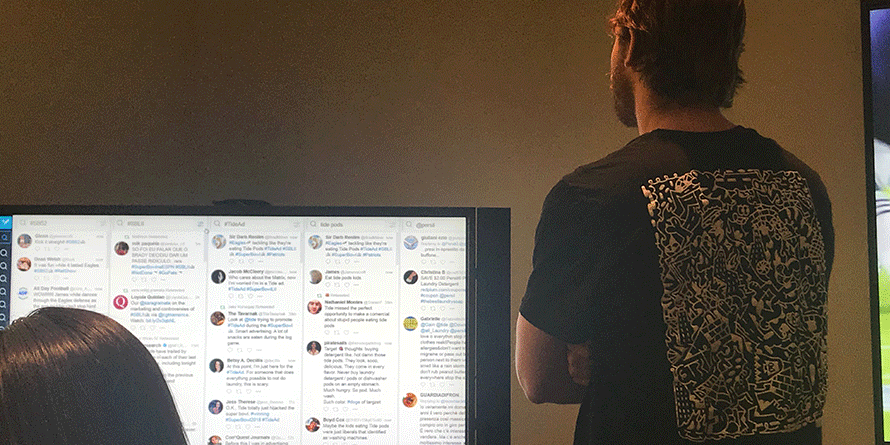 Lauren Johnson