3 Ad-Tech Stories You Need to Know: Salesforce's Acquisition, Industry 'Godfathers' Step Down
MediaMath and UnRuly beat the transparency drum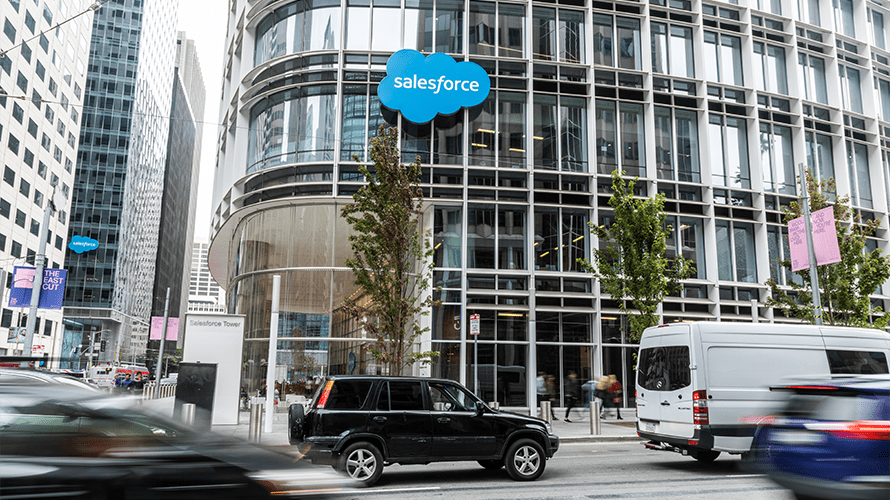 Salesforce upped the ante in the marketing cloud space with its latest purchase Rebel. This happened the same week as two of the godfathers of ad tech left their respective roles at Google and AppNexus, while MediaMath made even more transparency demands from trading partners.
Here's what's happening in This Week in Ad Tech.
Salesforce buys email marketing specialist Rebel
Salesforce has agreed to buy interactive specialist outfit Rebel, a company that lets consumers interact with brand messaging from within an email, which Salesforce will use to expand the functions within its marketing cloud.
A blog post on the Rebel website announcing the move said, "With Rebel's Mail and API solutions, brands, including Dollar Shave Club, L'Oreal and HelloFresh, turn emails into an extension of their website or app–collecting data, removing friction from the conversion process, and enhancing the customer experience."
Financial details of the transaction were not disclosed publicly, but the proximity of the Rebel purchase to that of rival outfit Adobe announcing its purchase of Marketo is notable.
Adobe's acquisition trail this year–including its $1.7 billion purchase of Magento–has brought it increasingly in competition with b-to-b marketing cloud incumbent Salesforce with the combined purchases—if cleared—bringing its spending in the space well in excess of $6 billion.
It's the end of an era as Google's Sridhar Ramaswamy and AppNexus' Brian O'Kelley exit
Last week saw two doyens of ad tech step down from active duty, marking what many dubbed the end of an era.
Sridhar Ramaswamy, Google's svp for ads and commerce and AppNexus co-founder and CEO Brian O'Kelley both vacated their current roles, with the former rounding off 15 years at the online behemoth, while the latter moved upstairs to take an advisory role.
Google vp of cloud apps Prabhakar Raghavan is poised to take over from Ramaswamy, who oversaw search, display, analytics and commerce business from a $1.5 billion per year business in 2003 to one that generated more than $100 billion in 2017.
Ramaswamy will join venture capital fund Greylock Partners where he will focus on helping startups that leverage AI, analytics and data to develop next-generation offerings for advertisers.
Meanwhile, it also emerged that AppNexus' O'Kelley will move to an advisory role as AT&T integrates AppNexus into its advertising and analytics unit Xandr following its $1.6 billion purchase by the telecom.
Ad-tech veteran O'Kelley is widely regarded as one of the godfathers of ad tech and co-founded AppNexus in 2007, helping to steer it toward its estimated $1.6 billion sale in June this year.
MediaMath lends its voice to the transparency chorus
Transparency is one of the catch-cries of the contemporary advertising era especially as marketers grow wise to fraudulent activity that was often deemed 'just the cost of business' in the nascent days of ad tech.
The furor, highlighted by the recent bid caching revelations where buyers weren't fully aware of what inventory they were bidding on, raised fresh concerns and last week MediaMath, one of the industry's most scaled demand-side platforms (DSPs) issued an ultimatum to trading partners.
In an open letter to ad exchanges and supply-side platforms (SSPs), MediaMath mandated that such companies sign up to a 13-point code of conduct in order to remain as trading partners. Anna Hewitt, MediaMath director supply products, said this after "more than three quarters of our clients have specifically asked for additional levels of transparency" to understand how their money is being spent.
The move reflects sentiments expressed to Adweek by Chris Kane, president of programmatic consultancy Jounce Media, when he said that advertisers themselves are increasingly asking how to rationalize their supply strategy.
It also strikes a similar tone to Unruly, which last week announced the set up of its own transparency initiative, plus a means of plugging its upcoming roster of products with a council known as "U7," manned by brand and media agency staff in order to help set up best practices in the programmatic sector.
Some of the industry's biggest names, including marketers from household brands like American Express, Nestlé, Samsung and Unilever, plus a host of tier-one names from the digital media sector, have all agreed to attend U7's first meeting.
One of the long-term goals for the committee is to bring clients closer to the decisions made in ad tech, as well as helping advertisers make sense of emerging tech trends, such as the use of emotional intelligence and opportunities presented by ambient technology.